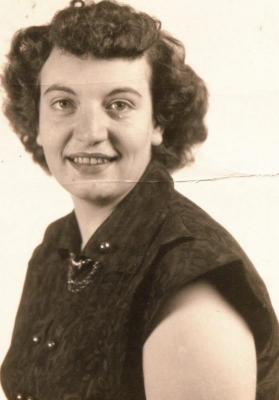 Ruth Arlene Brock, age 85 of Mannington, WV, passed away on Friday, December 22, 2017 at Monongalia General Hospital. She was born December 15, 1932 at Mannington, WV, a daughter of the late Jiggs and Della Mae Satterfield Blankenship.
She is survived by three children, Randy and Diane Brock of Bunker Hill, WV, Jill and Scott Yoak of Parkersburg, and Jan and Allen Fluharty of Mannington; 6 grandchildren, Jodi Brock, Sami Gault, Cassie Yoak, Todd Triplett, Sara Triplett, and Desmond Fluharty; and 7 great-grandchildren, Ava, Sidney, Quinn, Zayde, Jayden, Justin and Jayla.
In addition to her parents, Arlene was preceded in death by her husband John E. Brock who died on November 7, 2013; a grandson, Chad Brock; and a sister, Patty Blankenship.
Arlene was a Methodist by Faith but had been attending Llewelyn Baptist Church. She was a telephone operator having helped with the transitioning to dial phones. She had also worked at the Drapery Factory in Mannington. She enjoyed cooking, canning, reading, and working crossword and jigsaw puzzles. She was a member of the Eastern Star #6. She enjoyed her grandchildren and great-grandchildren. She was a1950 Mannington High School graduate and enjoyed attending the annual class reunions.
Family and friends may call at Masters Funeral Home, 209 Main St Mannington on Tuesday, December 26, 2017 from 4-8:00pm with an Eastern Star service taking place at 7pm. Funeral services with be held in the funeral home on Wednesday, December 27, 2017 beginning at 11:00am in the funeral home with Pastor Larry Watson officiating. Interment will be at Mannington Memorial Park Cemetery. On-line condolences may be left for the family at www.mastersfuneralhomewv.com